Minority Mental Health Awareness Month & Black Maternal Mental Health Week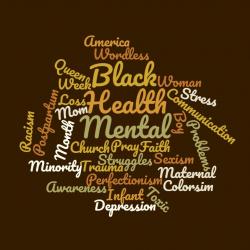 Aug 04, 2020
Did you know we have a dedicated month and week for minority mental health and minority mental health while pregnant?!  Now, add a pandemic hitting our communities and racism being declared a public health crisis – my heart grieves, and my mind starts feeling overwhelmed, filling up like one of those word clouds.
My personal struggle with mental health started when I was in grade school.  Even at an early age, I had separation anxiety about going to school and feeling like I just didn't belong. I wasn't sure if I was meeting the expectations of my teachers, my family, my faith, and I felt like I was a bad person.
These feelings of inadequacy and shame snow balled when I lost my baby a few years ago at 23-weeks. Daily, I feel exhausted and struggle to feel fully functional, in addition to dealing with societal bias and systemic racism. Recently, the pandemic seemed to trigger these feelings even more. I felt more paranoid, anxious, and sleep deprived. I just felt lost and had no idea what to do. For me, I withheld these feelings from my family because I didn't want to be a burden. My struggles with depression, anxiety, and fitting in make me feel shameful and I do not want to be perceived as anything less than, well, perfect. Basically, I felt like I did not need to trouble my family or my pastor as I think there are bigger problems in the world than mine.
However, according to Jelly Glass, Washington Post 2020, COVID-19 has us feeling more isolated than ever and I really started to feel alone in my feelings. Every day during this pandemic, I felt my unmet hopes, dreams, and expectations bubbling into every aspect of my life. I was worried about safety, trust, security, respect, faith, dignity, and peace. Will I ever have peace?
Thirsty for information, I started following certain people on social media to try to find some hint of support or road map to understanding my feelings.  After reading comments on what others in my community were doing regarding mental health and how they handled stress, loss, racism, bias, etc., several indicated some incredibly positive coping strategies like talking to their aunties, family members, pastors, or behavioral health professionals. In addition, most of them said they meditated, prayed, or engaged in groups – or now virtual hangouts.
Then, in my search, I found Our Wellness Network (OWN). I felt like OWN included action steps relatable to my needs. OWN is staffed with pastors, other black parents who experienced loss, and a trained black therapist. The website states, "OWN strives to improve the behavioral health of those African American mothers, fathers, and families living with infant loss experiences and those trying to prevent infant loss. This community-driven network offers treatment, education, prevention, resource coordination, and research on how best to help families move through loss. The network focuses on loss and grief healing from African American providers, culturally trained providers, and paraprofessional community members."
I felt nervous when first thinking about reaching out to the OWN help line as I still tried to convince myself that I could handle it. Days and weeks went by with me contemplating about calling the help line. Then, one day, I just broke down crying. I was in the bathroom crying in the mirror and I saw how angry, hurt, sad, depressed, and disappointed I looked. I cried out, "I need help!" I picked up my phone and texted "Hi, can you help me?"
Follow my journey…
Resources:
Schedule a session now to talk to someone who knows what you are going through!
NICHQ - The National Institute for Children's Health Quality